Chestnut
Welcome to Chestnut Class
Our teachers are Mrs Tuite and Mrs Parry. This is a key stage 1 class comprising of year 1 and year 2 children. We have two teaching assistants in our classroom. Their names are Mrs Haines and Miss Major.
Useful external websites
Home Connect
Click/tap here to see the date and result of the last book quiz taken, the percentage of quiz questions answered correctly for this term and for the whole school year and average book level.
Sumdog

Use this website to practise your maths. If you have forgotten your username and password, please ask your teacher.
Page 2 -
showing articles 6 to 6 of 6
PREVIOUS
Superhero Wow Day!!!
The children had lots of fun today being superheroes. They began the day by cleaning up the classroom of kryptonite. The mission was to clean up all the kryptonite using only a straw! The superheroes managed it just in the nick of time.
The next mission was to rescue Captain America's shield. The only problem was they had to get through a maze of lazers and try not to ring the bells. Lots of superheroes managed this.
Mission 3 was to free Spiderman from the icy den he was frozen in. The superheroes worked in groups to decide how they could set him free. There were lots of ideas -using hammers to get him out, spoons, forks but the idea that worked best was using warm water to thaw the ice. Spiderman was SAVED!!!
There were lots of other activities as well throughout the day, including designing superhero passports and creating comic strips on the laptops.
A great day was had by all!!!!
Galleries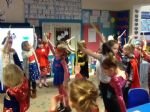 Kryptonite clean up!!
Page 2 -
showing articles 6 to 6 of 6
PREVIOUS